Our Doctors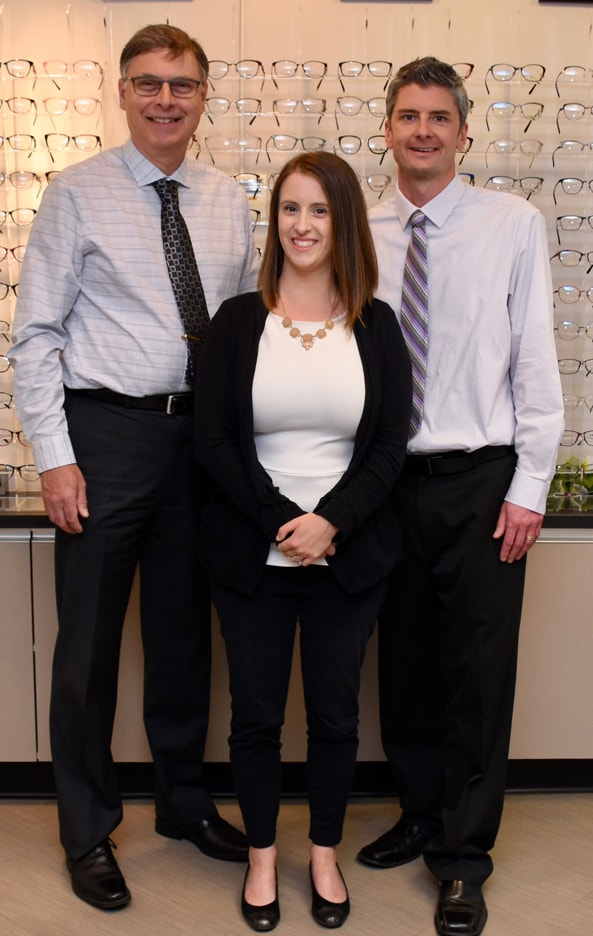 28+ Years of family eye care!
Our Doctors
Dr. Louise Morin

---

Dr. Louise Morin graduated from the University Of Montreal School Of Optometry in 1987. After moving to Victoria, she worked with Dr. Malcolm Orr and Dr. Lawrence Brierley in their corneal and cataract surgical practice for several months. Along with Dr. Joslin, she started a practice in Sooke, in 1988, and later, the West Shore in 1990."

Dr. Brian Joslin

---

Dr. Brian Joslin was born and raised in Victoria and studied at the University of Victoria as an undergrad. He graduated from the University of Waterloo with a Bachelor of Science and Doctor of Optometry Degree in 1986. Along with Dr. Louise Morin, he spent a year in New Brunswick with the Mobile Vision Program. He and Dr. Morin then went on to open a practice in Sooke in 1988, and the current practice in the West Shore in 1990.

Dr. Lisa Meister

---

Dr. Lisa Meister graduated with Honours from the University of Waterloo, School of Optometry in 2012. Originally from Regina, Saskatchewan, she is proud to now call Victoria her home. Dr. Meister offers comprehensive eye exams to patients of all ages in our Langford office. Before joining our team, she developed an interest in the field of contact lenses after spending time at a specialty clinic in Melbourne, Australia.

Dr. Craig Barlishen

---

Dr. Craig Barlishen graduated from the University of Waterloo in 2007 with a Doctor of Optometry Degree (Honours). Following graduation, he practiced in Brandon, Manitoba and moved to the Victoria area in 2009.Dr. Barlishen enjoys the outdoors, restoring classic cars and spending time with his two children and wife Danielle.
Our Optometric Assistants
Our Optometric Assistants assist the Doctors of Optometry in the delivery of eye health care services. Our Optometric Assistants see a vast array of patients from all walks of life; infants, children, men, women, seniors, able-bodied and disabled.
Almost all of our staff are certified whether they are a Certified Canadian Optometric Assistant (C.C.O.A), Certified Para Optometric, Medical Office Assistant (MOA) or Optician. This means that unlike some establishments, each staff member has studied, has been trained under supervision and tested on their skills prior to receiving certification and continues their education throughout their career.
Do you have a spouse or family member with dementia? Is your child extremely nervous or anxious about their eye exam? Please let our staff know and they will do their best to gently accommodate these patients and help them feel more comfortable.
Did you know?
We have staff members that have been a member of our practice for over 20 years? …That's a long time!
William

Trish

Stephanie

Janie

Dana

Joleen