NEED CONTACTS?
Fill out our contact form or call the office to speak to the staff about shipping options.
Order contact lenses
Lubricant drops and lid care can be purchased as well.
Expert Optical Services

in Victoria by Dr. Joslin, Dr. Morin & Associates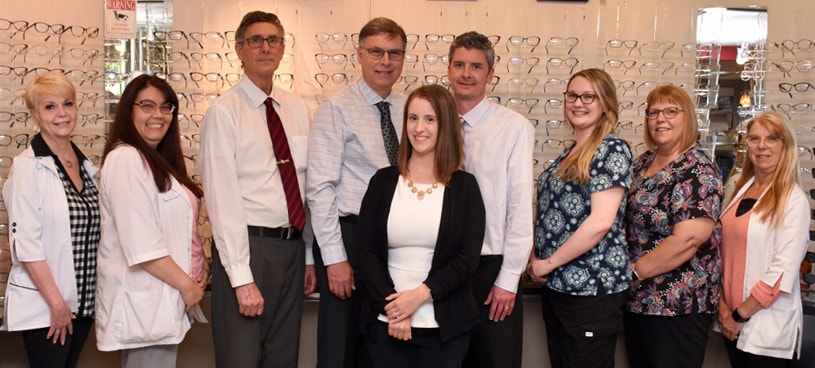 ---
For over thirty years we have provided comprehensive eye health and optical services to the growing West Shore communities.
We are a team of doctors and certified staff that work together to provide you with a great experience in a caring environment. We believe that preventative eye care is an important part of total health care. This should start with an infant's first eye examination at the age of six months.
As our valued patient, you benefit from having your eye health and optical needs met at one location.Our office is a long time members of OSI (Optometric Services Inc.), the largest collective purchasing group in Canada. This membership allows us to provide our patients with excellent prices without sacrificing quality or selection.
Our office is open extended hours to better suit your schedule and is currently accepting new patients of all ages. Come and experience the precision of customized vision with our expert optical services.
Why Choose Us?
---
At Dr. Joslin, Dr. Morin & Associates, we offer a comprehensive range of optical services including:
Eye exam: Visit us for your regular eye exams and ensure optimum care for your vision. At our clinic, you will meet optometric assistants who will perform a series of computerized tests with digital imaging devices and prepare you for seeing our doctors.


Eye wear: We are independent optometric practitioners and we offer the widest selection of eyewear that fits your requirements perfectly, whether you want something designer or budget friendly. With the technology for precision lens measurement that we have, you can be assured that your new glasses will work best for you.


Contact lens examination: If you are looking to get contact lenses, then we have you covered. Undergo contact lens assessments at our clinic and get the right lenses for yourself. Whether you are a first-time user, or you need refitting, our doctors can help. In our extensive eyewear selection, you can also find multifocal contact lenses.


Urgent care: As dependable optometrists, we are there for your eye emergencies. Whether it is sudden redness in the eyes, unusual swelling, noticeable change in vision, or an eye accident, you can reach out to our eye doctors for immediate professional attention and requisite care.


Complete optical examination: You can schedule a full eye examination at our eye clinic. With state-of-the-art technology, our doctors and staff conduct a thorough assessment of your eyes, along with the usual test of vision. Such an assessment helps detect conditions that are overlooked otherwise. From vision to eye movement and coordination, every aspect is examined carefully.
Expert Staff for All Your Optical Care Needs
---
Eyesight is a gift and our optical services in Victoria can help you protect it. At Dr. Joslin, Dr. Morin & Associates, we are a team of eye doctors and optometric assistants always ready to deliver quality care for your eyes. We believe that vision is vital for the quality of life and that you should never settle for poor eyesight or ill-fitting eyewear.
You can reach out to us if you notice any of the following signs:
A consistent redness or swelling in the eyes
Irregularity in vision or blurriness
Dryness or irritability
Regular headaches

Our Langford office is currently undergoing system changes
Our Langford office is currently undergoing system changes in order to communicate with our patients even better than we do now!
Our office has done some system changes regarding our email and text abilities and apologize if our patients receive more than one reminder in their inbox, or if they experience a communication error during this period of transition.
Please be sure to press the "Confirm" button if you have a Pre-booked appointment needing to be confirmed (scheduled 6 months or more in advance).
If you do not press Confirm, the new system will not recognize that you have an appointment and it will be cancelled.
Thank You for your understanding and patience!
~Dr. Joslin, Dr. Morin & Associates
Parking Information for Patients
Dear Patients and Visitors,
Our office now has assigned parking spots.We share our parking lot with the West Shore Learning Centre and Calveley Enterprises Ltd.
Please make sure you are in the parking stalls that either have sign or cement marking that say "Reserved for Dr. Joslin Customers Only", along the fence (and near our front doors) to ensure your vehicle will not be towed.
These spots are also for patients seeing our associate optometrists.
If there are no designated spots free, there is street parking and also public parking lots close by.

WHAT OUR CLIENTS SAY
---
Excellent Experience

"I had an excellent experience at the Langford location. In booking my initial appointment, I found the staff very helpful and informative over the phone – letting me know what my visit would entail (I think this is very important and it was nice not to have to ask these questions!). I was welcomed by the friendly reception staff and I had my appointment with Dr. Meister – who was fantastic! The appointment was very thorough and Dr. Meister answered all my questions, leaving me well informed. I felt like I was well taken care of!"

---

Kirsti

Thorough Examinations Performed

"Very accommodating and thorough examinations performed! Very happy!!"

---

Lauren

Amazing Optometrist and Front Floor Staff

"So helpful, don't do extra tests when they aren't needed, staff who are willing to say, "I'm not sure those purple floral eyeglasses are quite what you're looking for" (when you don't have contacts in).. and amazing optometrist and front floor staff"

---

Krista

Expert Examinations

"We would like to express our thanks and appreciation for the wonderful, friendly, expert examinations and glasses fittings"

---

Lorna & Jim

Highly Recommend

"Once again a very thorough eye exam with Dr Morin. Dr Morin always takes the time to review and explain any changes in your vision, patiently answering any and all questions you may have. Office staff is friendly and helpful too. If you need an eye examination for yourself of family member I highly recommend the offices of Dr. Joslin, Dr. Morin & Associates: Doctors of Optometry."

---

Nel

AWARDS
Best of The West Shore
---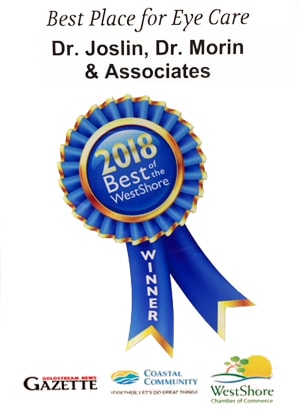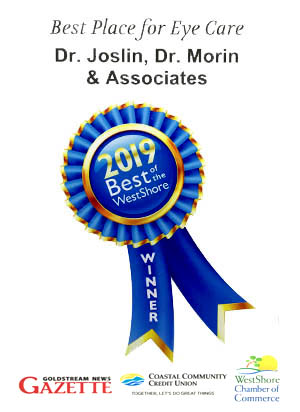 Comprehensive Eye Exams
Undergo advanced eye tests at our well-equipped eye care facility in Victoria.
Check Our Fees
Frames That You'll Love
Find eyewear that complements your personality from the widest selection at our spectacle dispensary.
Explore
Professional Eye Care
We offer professional and timely optical services for your big and small eye care needs.
Schedule an Appointment