Need contacts?
Fill out our contact form or call the office to speak to the staff about shipping options.
Lubricant drops and lid care can be purchased as well.
Order contact lenses
Professional Optometric Services
in Victoria by Dr. Joslin, Dr. Morin & Associates
For over thirty years we have provided comprehensive eye health and optical services to the growing West Shore communities.
We are a team of doctors and certified staff that work together to provide you with a great experience in a caring environment. We believe that preventative eye care is an important part of total health care. This should start with an infant's first eye examination at the age of six months.
As our valued patient, you benefit from having your eye health and optical needs met at one location.Our office is a long time member of OSI (Optometric Services Inc.), the largest collective purchasing group in Canada. This membership allows us to provide our patients with excellent prices without sacrificing quality or selection.
Our office is open extended hours to better suit your schedule and is currently accepting new patients of all ages. Come and experience the precision of customized vision with our expert optical services.

Why Choose Us?
At Dr. Joslin, Dr. Morin & Associates, we offer a comprehensive range of optical services including:
Eye exam: Visit us for your regular eye exams and ensure optimal care for your vision. At our clinic, you will meet optometric assistants who will perform a series of computerized tests with digital imaging devices and prepare you for seeing our doctors. Our Doctors of Optometry conduct a thorough eye examination, assessing possible conditions, diseases and visual functions of the eye, including refraction (measuring prescription).


Eye wear: We are independent optometric practitioners and we offer the widest selection of eyewear that aims to fit your specifications whether you want something designer or budget friendly. With the technology for precision lens measurement that we have, you can be assured that your new glasses will work best for you.


Contact lens examination: If you are looking to get contact lenses, then we have you covered. Contact lens assessments and training are performed at our clinic, by our doctors and staff. Whether you are a first-time user, or you need refitting, our doctors can help find the best brand, type, fit and prescription for your needs.


Urgent care: As dependable optometrists, we are there for your eye emergencies. Whether it is sudden redness in the eyes, unusual swelling, noticeable change in vision, or an eye accident, you can reach out to our eye doctors for immediate professional attention and requisite care.

Knowledgeable Staff for All Your Optical Care Needs
Eyesight is a gift and our dedicated doctors and staff can help you protect it. At Dr. Joslin, Dr. Morin & Associates, we are a team of eye doctors and optometric assistants always ready to deliver quality care for your eyes. We believe that vision is vital for the quality of life and that you should never settle for poor eyesight or ill-fitting eyewear.
You can reach out to us if you notice any of the following signs:
A consistent redness or swelling in the eyes
Irregularity in vision or blurriness
Dryness or irritability
Regular headaches

Keeping In Touch
Our office has done some system changes regarding our email and text abilities and apologize if our patients receive more than one reminder in their inbox, or if they experience a communication error during this period of transition.
Please be sure to press the "Confirm" button if you have a Pre-booked appointment needing to be confirmed (scheduled 6 months or more in advance).
If you do not press Confirm, the new system will not recognize that you have an appointment and it will be cancelled.
Thank You for your understanding and patience!
~Dr. Joslin, Dr. Morin & Associates
Parking Information for Patients
Dear Patients and Visitors,
Our office now has assigned parking spots.We share our parking lot with the other businesses in our building
Please make sure you are in the parking stalls that either have sign or cement marking that say "Reserved for Dr. Joslin Customers Only", along the fence (and near our front doors) to ensure your vehicle will not be towed.
These spots are also for patients seeing our associate optometrists.
If there are no designated spots free, there is street parking and also public parking lots close by.

WHAT OUR CLIENTS SAY
Amazing staff

"The doctor is very nice and informative, I wouldn't go anywhere else."

Mark D

We're so fortunate to have such an excellent office of optometry.

"We absolutely love this practice and Dr. Barlishen is without a doubt, the best optometrist we have ever had - so thorough, professional and helpful. The office staff are very efficient and friendly."

K.C.

Thank you so much!

"During COVID19 this group was still able to see if they could fix my son's broken glasses. They were polite, courteous and professional. They took all necessary precautions and resolved the problem quickly and safely. I have been using them for my son years and never ever an issue.....well done folks and thank you ."

Aaron K.

I won't go anywhere else.

"They are so thoughtful and careful here. Thanks!"

Gord F.

Overall a positive experience

"I had a routine eye exam about a year ago. The parking is easy (designated spaces). The receptionist/office ladies are lovely. I only had to wait a minute or two. Dr Barlishen was very patient (I talked too much after drinking a large coffee). They have a ton of very expensive looking high tech equipment. The bill was very reasonable IMO. Thank you."

Ella R.

Thanks for the great service!

"I'm very impressed with the knowledge and help I received. Excellent people working there and Dr Barlishen was thorough and quick but didn't seem rushed. I have to go back to order glasses and know I'll be well taken care of."

Tanya S.

Thorough Examinations Performed

"Very accommodating and thorough examinations performed! Very happy!!"

Lauren

Amazing Optometrist and Front Floor Staff

"So helpful, don't do extra tests when they aren't needed, staff who are willing to say, "I'm not sure those purple floral eyeglasses are quite what you're looking for" (when you don't have contacts in).. and amazing optometrist and front floor staff"

Krista

Expert Examinations

"We would like to express our thanks and appreciation for the wonderful, friendly, expert examinations and glasses fittings"

Lorna & Jim

Highly Recommend

"Once again a very thorough eye exam with Dr Morin. Dr Morin always takes the time to review and explain any changes in your vision, patiently answering any and all questions you may have. Office staff is friendly and helpful too. If you need an eye examination for yourself of family member I highly recommend the offices of Dr. Joslin, Dr. Morin & Associates: Doctors of Optometry."

Nel

AWARDS
Best of The West Shore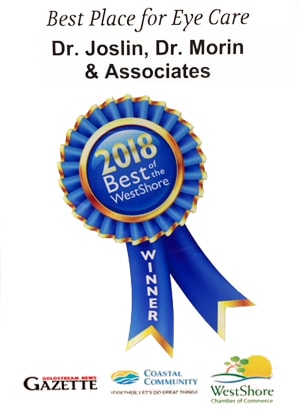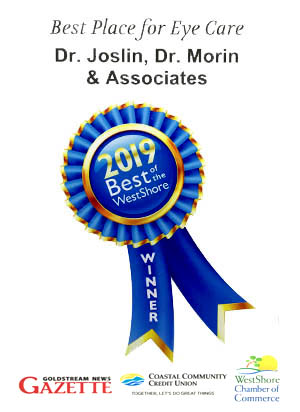 Comprehensive Eye Exams
Undergo thorough examinations performed at our well-equipped and experienced practice in the West Shore.
Check Our Fees
Frames That You'll Love
Find eyewear that complements your personality from the widest selection at our spectacle dispensary.
Explore
Professional Eye Care
We offer professional and timely optical services for your big and small eye care needs.
Schedule an Appointment